Hello Guildies,
As you all know, Sieg has recently been 'rewarded' with new passive skill masteries. These masteries make your skills stronger, but they also take away more skill points than you can gain with 1 rebirth. That's why I've decided to help you guys out with Sieg's skills. Now that stages are buffed, you really need to make a good build to beat them to reach level 70. From my personal experience, most beginner like to have ranged skills, because they are not good at dodging yet, thus they don't use melee so much, and if they do, they just spam AAAAA. If you're someone that likes to have ranged attacks, I suggest the following non-rb build:
If you want to benefit from Rage Explosion and go for an all physical build, then I suggest the following build: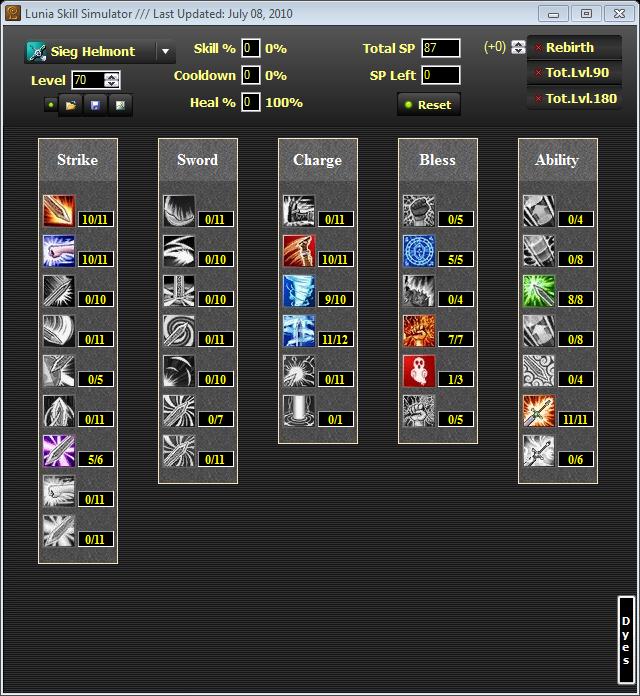 And yes, Iron Hammer is fully physical now, so Rage can make it stronger.

Well that's about it for the non-rebirth builds, let's move on with the Rebirth build (or Myth Build). This time I would go for a physical build again, because going for hybrid takes too many sp:
Level 1 CMS and Hurricane are for pushing mobs away. I took out 7 sp from Deadly Blow, because I think those can be spent on other skills that are more useful. Never go over 4 sp for Whirlwind Wave, because the damage hardly increases after level 4. Level 4 is just to have 3 tornadoes instead of 2, and have max range.
Well, that's about it guildies.

I don't want to make this guide longer than necessary. Feel free to ask me questions regarding other skills that I haven't included in my builds. At last, for the people who are interested, here is my current build: